Exactly How Often You Should Replace Your Running Shoes, Per Podiatrists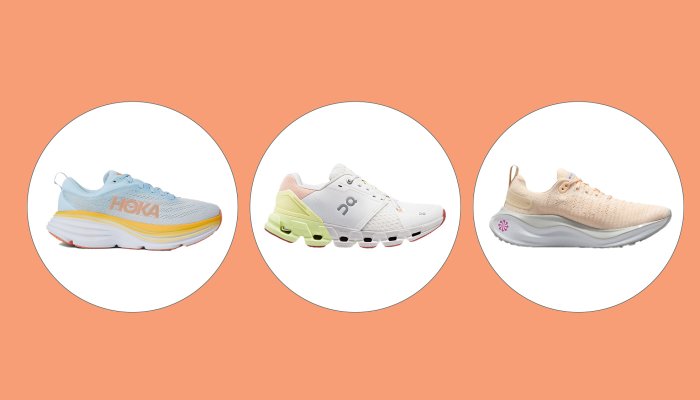 Brenner says, beyond picking the right shoes for your gender and personal weight, knowing what type of foot you have (i.e. neutral, flat, high arches, wide) is a top priority. 
Not sure your foot type? Head to your local specialty running shoe store, where you can have an expert help determine important factors such as the stability of your foot and your foot strike, Brenner advises. 
Brenner's hot tip is to always go shoe shopping towards the end of the day, because that's when your feet will be true to the size of long distance running.  
When looking for the best long distance running shoes, also consider the below factors:
Where you're running: Will you be hitting the local trails, the roads in your neighborhood, or the treadmill at your local gym for your runs? 
If it's a trail, you'll be best off in a trail running shoe that's made for traversing roots, rocks, and mud with a more durable outsole and rock plate designed to disperse the impact of stepping on uneven, sharp objects. 
I (the writer) naively wore On CloudMonsters (a road running shoe with maximum cushion) for a trail-based half marathon in Colorado's mountainside. Needless to say, I was struggling with rocks and pebbles stuck in the bottom of my shoe, which was very uncomfortable. 
If you're running on pavement, look for long-distance running shoes made for the road, with outsoles designed to take a beating.
Cushion vs stability: Highly cushioned running shoes can give you the support you need to absorb shock and reduce joint pain and inflammation, but they don't always have the stability needed if you over or under pronate. In other words, more cushion isn't always better. 
Podiatrist Dina Gohil says, "Some runners benefit from the extra cushioning if they have lost some of their natural fatty patty from the sole, requiring more shock absorption from ground impact for their joints (ankles, knees, back, and even up to their necks)." 
Ultimately, determining just how much cushion you prefer will require spending some time in the shoes.
The fit: To make sure you're choosing the correct shoe size to allow your feet to swell slightly and still have room to activate during long distance runs, have your foot measured at your local shoe store. 
"Shoes should be sized on the longer of either arch length or heel to longest toe," advises Sharkey. For reference, it's about a thumbnail of space from tip of toe to the end of the shoe.